SUMMARY
Integrated in the profession since 1979 and installed as a craftsman in 1982, Pierre Wostyn has an exceptional experience in shoe manufacture and repair, within the craft industry.
Many years of handling a whole series of industrial shoes initially enabled him to study in depth the various designs of this type of product, and to forge a solid knowledge on the principle of ideally fitting shoes.
On these paramount bases and in correlation with a complete redefinition of the shoe, was born an innovating way of working, using current techniques with ancestral methods :
- Computer-aided design of the lasts and patterns.
- Simplification of the assembly of the uppers reducing labour time and manufacturing cost.
- Personalization of the design by interactive selection of the components whose combination offers an unlimited choice of models.
- Product made to measure and morphologically adapted whose assembly and overall realization remain the seat of purely manual operation.
In order to make available a shoe a long time considered as an exceptional article, but nevertheless strongly recommended by the medical profession, this experiment and this whole new concept brings up to date a true trade of long ago, eclipsed by a century of industrial expansion, but reinstated today in its value of proximity thanks to Internet.
A.C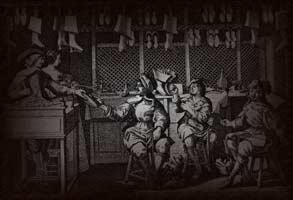 ---
PRODUCTS OFFERED
Shoes in variable styles and shapes with low heels made to measure from :
27 basic models for men
34 basic models for women
personalized on line by multiple combinations of their elements.
MANUFACTURE
Craftsmanship authenticates great quality :
Assembly of the upper parts by hand in the best tradition.
Selection of materials (first class always) and great care for a meticulous finish of an extreme reliability.
AESTHETIC
Our made to measure product is a SHOE "A LA CARTE"(chosen by you)
You yourself select its form and its components according to your taste,
requirements necessary for your use, and your budget.
COMFORT
Using the measurements provided, the shoe is morphologically adapted to the length and the width of your foot,
using the rules of ideal fitting, allowing for total stability and perfect comfort reinforced
by the effect of a suitable plantar contour.
IMPORTANT: If our practice has strong similarities with orthopaedics, it is in no way a medical service.
We bring to this field only one recognized preventive action, and always very appreciated our customers.
This product is thus addressed to GENERAL PUBLIC.
( Strong malformations, articulatory stiffness, orthopaedic equipment and insoles: DO NOT APPLY ! )
DURABILITY
Our shoes are of an exceptional strength. Conceived in our workshop for maximum longevity,
they will last at least 5 years if a great care is taken of them and if an alternation is operated on 2 pairs.
Repairs of wear are accessible to all types of shoe repair's.
---
COMFORTABLE SHOES STYLED
PERSONALIZED & MADE TO MEASURE
COMPOSITION-TYPE

VARIOUS OPTIONS: Materials, colour, accessories...
The physiological arch is a plantar support in the form of a "cushion". It helps the blood circulation of the leg and makes it possible to preserve the young and well-formed instep.
The inner shock wave absorber is one used in podology and recommended for people with sensivity of the vertebrae, hips or knees, or suffering from tendonitis.
The insertion is an additional shock absorber. It is integrated according to the thickness and type of sole for additional comfort and solidity. It can be left out in favour of a more flexible single thickness sole.
In addition of the many options suggested, a heading " PREFERENCES " enables you to express your subsidiary choices relating to the look or the comfort of the shoe.
ALL YOU'VE BEEN WAITING FOR
IN A REAL SHOE MADE
JUST FOR YOU
***
Do not hesitate to contact us by email.
We attach much importance to the dialogue of proximity.
The craftsman
PIERRE WOSTYN: Personalized models of shoes
---
Top of page
Home page